Fat Burner For Women: Take Fat Burning To The Next Level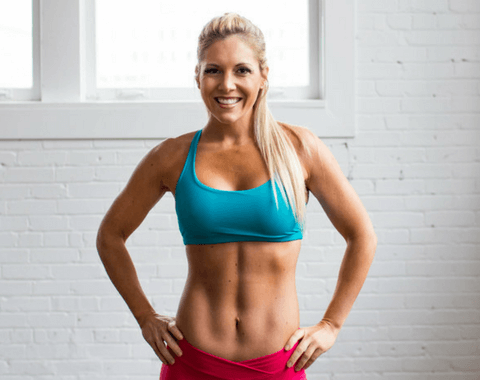 While effective weight loss is centered around a solid exercise routine coupled with good nutrition, you may sometimes feel that you need something extra to help you reach your goals. Combined with proper nutrition and an active lifestyle, a fat burner for women can give you the added boost that you need to maximize your fat burning potential during your weight loss regimen! 
Fat burner pills offer a combination of ingredients that assist in losing weight. A better pill is one that provides additional benefits like increased energy, as well as a fat oxidation blend to promote a higher rate of fat burning. 

But you need the right supplement. You don't want a fat burner that contains testosterone boosting ingredients. You need a fat burner for women, designed to support your unique goals! The best kind of fat burner offers clean energy from caffeine, as well as other ingredients, like L-Carnitine and CLA, to boost fat oxidation, help curb cravings, and support focus.

Improve Fat Burning, Increase Energy, and Enhance Focus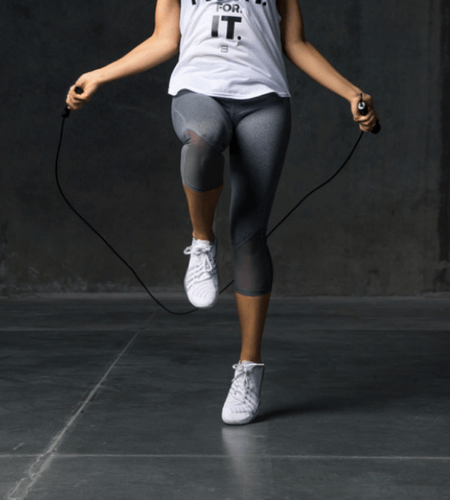 When your nutrition and workouts are on point, the right fat burner supplement can help you finally achieve the goals you've been working toward. A fat burner for women should provide high quality ingredients that work together to support metabolism, deliver increased energy, and enhance your mental focus. 
Fat burners should include ingredients to help burn fat and support healthy weight loss, like caffeine, L-Carnitine, and CLA. Caffeine provides a thermogenic boost, which can help support metabolism by increasing the rate at which calories are burned. More calories burned throughout your day will help you reach your weight loss goals more quickly and effectively. In addition, the combined effects of L-Carnitine and CLA work to promote greater utilization of your body's fat stores as it's primary source of fuel for energy, thus enhancing your ability to burn fat throughout the day! 

The increased energy provided by caffeine can also be enjoyed during your workout, and will allow you to keep up with your active lifestyle. Because as you know, the more active you are, the more calories you burn!

But the battle to burn fat isn't entirely physical. Losing weight can be a mental struggle! A good fat burner for women also provides ingredients to help increase mental focus. In addition to increased energy, ingredients like caffeine and 𝛃-PEA provide the enhanced focus and concentration that you need in order to succeed effectively reaching your weight loss goals!

Get The Most Out Of Your Efforts
Take it to the next level! IdealLean Burner is formulated to support healthy weight loss and gives you all the energy you need to pursue your fitness goals so you can benefit from those post-workout endorphins, even when you've given it your all.
IdealLean Burner is specially formulated for active women, with natural caffeine from Green Coffee Bean, Thermodiamine™, plus Green Tea Extract to provide antioxidants. It also contains BioPerine® (Black Pepper Extract), Theobrimine, and CLA (conjugated linoleic acid), all ingredients included to burn fat and support your body composition goals.
To get the best results, you still need to work out hard, work out smart, and get your nutrition right. But IdealLean Burner can give you that extra boost in focus to help you reach your goals!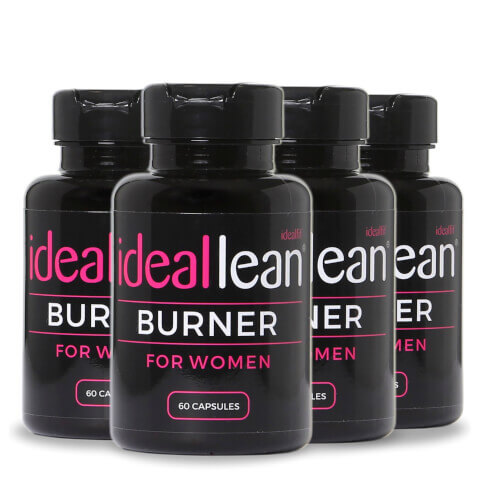 Energy From Natural Sources
Specially Formulated Blends
Supports Thermogenesis
Extra Focus
Metabolism Support
NUTRITION FACTS
Frequently Asked Questions
Can I view IdealLean Burner Nutritional facts?
IdealLean Burner 60 Servings
Serving Size: 1 Capsule
Servings Per Container: 60
Supplement Facts
Amount Per Serving
% DV*
L-Carnitine Tartrate
150mg
*
B-phenylethylamine (PEA)
150mg
*
Caffeine Anhydrous (Natural)
100mg
*
Conjugated Linolelc Acid (CLA)
100mg
*
Green Coffe Bean (50% Chlorogenic Acid)
100mg
*
Theobromine
50mg
*
Green Tea Extract (50% EGCG)
50mg
*
ThermoDiamine™ (98% Evodiamine)
10mg
*
BioPerine® (Black Pepper Extract 98% Piperine) (Fruit)
5mg
*
Fucoxanthin
5mg
*
* Daily Value not established
Other Ingredients: Veggie Capsules, Rice Flour
Magnesium Stearate, Silicon Dioxide
Manufactured in a facility that processes Milk,
Soy, Eggs, Nuts and Wheat
Thermodiamine™ is trademark of |N ingredients,
Bioperine® is a registered trademark of Sabinsa Corporation.
Other Ingredients: Veggie Capsules, Magnesium Stearate, Silicon Dioxide
What makes IdealLean Burner different from other weight management products?
We have done our research and picked specific ingredients to support your weight management goals. But IdealLean Burner doesn't just support weight management: it also helps make you feel energized from ingredients like Caffeine and Green Tea Extract.
How do I use IdealLean Burner?
To start, take one (1) capsule with 16 oz. of water in the morning before breakfast.
After one week, if desired, begin taking an additional one (1) capsule before lunch. Do not exceed more than two (2) capsules per day.

Does IdealLean Burner contain stimulants?
IdealLean Burner contains 100mg of caffeine, which may support focus, wakefulness, and a healthy metabolism. Caffeine gives you energy to complete your workouts and get things done. If you are not used to consuming caffeine, begin with one capsule per day and see how you feel before increasing to two capsules. Do not exceed two capsules per day.
Can I combine IdealLean Burner with a pre-workout supplement?
You can use both supplements, but we recommend taking them at different times. For instance, take your pre-workout supplement first thing in the morning and IdealLean Burner with a meal. If you prefer to take your pre-workout supplement later in the day, then take IdealLean Burner first thing in the morning or with breakfast.
Do i need to cycle off IdealLean Burner periodically?
If you begin to notice that the effects of IdealLean Burner aren't as strong as you would like, take 2 to 3 days off.
We are sure you'll love our product! If you don't, send it back within 1 year for a full product price refund!