"Raising The Bar"
The biggest comeback of the year. We are bringing back our IdealLean Protein Bars after 16 months of intense research and development.  We took all your feedback on taste, texture and ingredients to heart and made the best tasting, most nutritious protein bar ever.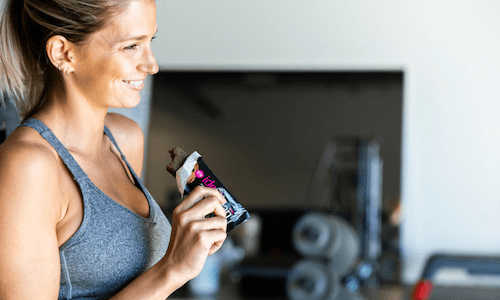 Protein Bars for Women
Whether your goal is to lose fat, build lean muscle, or gain strength, it's important to make sure that you're getting enough protein every day. Protein is important for building lean muscle, effective post-workout recovery, and it can help you feel full for longer! But meeting your protein needs can be easier said than done, especially when you're living a fast-paced lifestyle. That's why it's so important to identify quick and easy sources of high-quality protein. Protein bars are a super convenient way to help you reach your nutritional goals and meet your daily protein needs, even when you're on-the-go!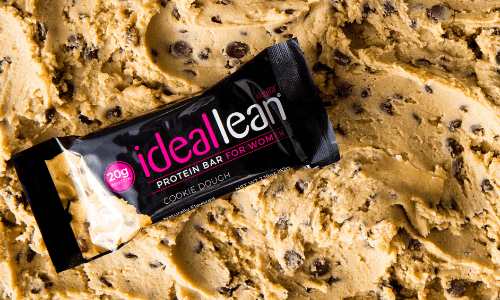 Nutritious and Convenient
Protein bars can help you get in your daily protein when you're too busy to break away from your hectic schedule. But you need a protein bar designed especially for women, with your individual needs in mind. You can't afford to ruin your nutrition with a protein bar that's packed with fillers and added ingredients you don't need. And you definitely want your protein bar to taste good so that you actually enjoy eating it! Forget other protein bars that don't meet your needs, and get on board with the best protein bar for women providing everything you want from a bar and nothing that you don't!
I had a bad experience with the last IdealFit Protein bars. Are these different? 
YES! We have completely reformulated these bars to be better tasting, more convenient and better than ever! We also have new delicious flavors, Cookie Dough, and Peanut Butter Chocolate Chip. We're so sure that you'll love the new IdealFit Protein Bars that we're willing to offer a 30-day risk-free, money back guarantee. If you do not enjoy our new bars, simply return the product for a refund!
What makes IdealFit Bars different than other bars on the market?
First of all, they are super delicious, soft, and chewy! Many protein bars these days have a bad "protein taste" or a "gritty texture". Our bars do not. Our bars are made with natural ingredients, sweetened with stevia, and the nutrient profile was designed for the active woman in mind. 
Are IdealFit Protein Bars gluten-free?
If I am pregnant can I use these bars?
Nothing in these bars have been known to cause adverse effects for those who may be pregnant. However, we recommend speaking with your doctor prior to starting any new product or diet regimen.
Can my kids use these bars?
Again, we would highly recommend consulting your pediatrician and/or dietician about what would be best for your child. However, nothing in these bars have been known to cause adverse effects in children since we use natural ingredients. 
What is the shelf life of these bars?
12 months from the date of manufacture
How much protein is there per bar? What types of protein are included in the bar?
Each bar contains 20 grams of whey protein. We primarily use whey protein isolate, one of the highest quality protein sources available. There is a small amount of whey protein concentrate in the protein crisps. 
Is refrigeration required?
No, refrigeration is not required for these bars since they were designed with convenience in mind. 
Can I eat these if I am lactose intolerant?
The process by which whey is extracted from milk makes it suitable for many who are lactose intolerant. However, we would strongly recommend that those with dairy allergies check with a doctor prior to use.
 Allergen warnings for IdealFit protein bars:
Peanut Butter Chocolate Chip: Contains: Milk, Peanuts, Tree Nuts (Coconut) and Soy Lecithin. 
Cookie Dough: Contains: Milk Tree Nuts (Almonds, Coconut) and Soy Lecithin. 
Both are manufactured in a facility that processes dairy, soy lecithin, peanuts, tree nuts, and eggs.
What meal will this replace?
IdealFit Protein Bar is not meant to act as a stand-alone meal replacement. It would be great as a pre-workout meal or a healthy snack during the day.
Is IdealFit Protein Bar included in the trainer challenges?
These bars will be included in future updates to the trainer challenges.
How many bars can I have each day?
To promote optimal variety in your diet, we would not recommend more than two each day. This may vary depending on personal preference and your current goals.
 How many bars are included in each box?
There are 7 bars per box.