Stack You IdealLean Products to See the Best Results
I'm Trainer Lindsey, a certified nutritionist, trainer, and a National Figure Competitor. Over the past decade I've researched and studied the best methods for building a lean, strong physique, and here's what I've found.
To get the best results possible, you've got to push yourself in the gym and provide your body with the right muscle-building nutrients it needs to recovering effectively after training. You need something specifically designed to fit your own needs, something that not only tastes incredible but also helps build a fit, toned body. That's exactly why I helped formulate IdealLean Protein for women!
How you recover after you workout is just as important as the training itself! It's time to maximize your hard work and give your body the nutrients it needs to amplify your results.

WHY STACK YOUR IDEALLEAN PRODUCTS?
If you're serious about maximizing your fitness and getting the best results you possibly can from your hard work, IdealLean Stacks are exactly what you need to reach your goals. IdealLean Protein, BCAAs, and Pre-Workout* are formulated to work as the perfect team on your fitness, helping you get the absolute most out of every single workout. And when you buy your IdealLean Products stacked, you get a huge discount on your purchase, saving up to $189. It's a win-win for your budget and your body. 
These three products are the triple threat you need for amazing workouts, fast recovery, and spectacular results. Think about your car: it needs lots of different fuels to keep it going; not just gasoline but also water, oil, filters, and so much more. Your body is no different. With IdealLean Stacks, you get all three delicious workout-maximizing products for less, and you can buy the supply you need for a full 30, 60, or even 120 days. IdealLean Stacks are the perfect companion to your fitness and nutrition plan.
Save Big with Stacks
Protein, BCAAs, and Pre-Workout Supplements
Delicious Flavors
0 Fat, 0 Sugar, 0 Carbs in Every Product
Proprietary Recovery and Fat-Loss Blends
Made Just for Women with Extra Nutrients You Need
VIEW FAQS
You deserve a protein shake made for YOU! There are literally hundreds of men's protein shakes on the market, and they're loaded with sugar, calories, and other ingredients that do nothing for you. IdealLean Protein has just 90-100 deliciously smooth calories and 20 grams of whey protein isolate, so you can fuel your body right!
As women, we have unique nutritional needs. IdealLean Protein powder for women meets those needs head on. And because we know that women play hard and never quit, we made IdealLean protein to meet those needs head on. Get ready to get lean!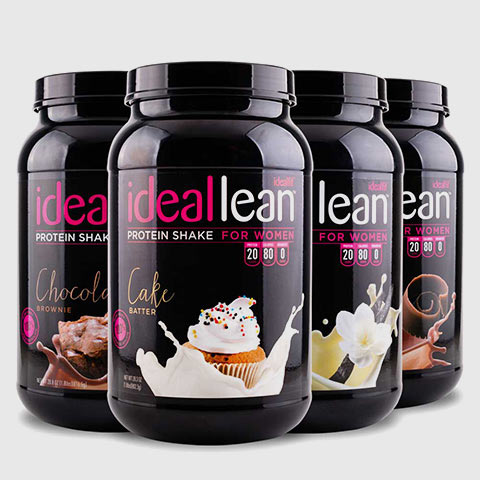 IdealLean BCAAs are branched chain amino acids with 0g sugar, 0 carbs, and best of all: 0 calories. IdealLean BCAAs are specially formulated to maximize weight loss, recovery, and lean muscle building for the lean, toned look you want.

To help you get the absolute max out of your workout, IdealLean BCAAs also contain coconut water powder for improved hydration and IdealLean Fat-Loss Blend to help you get lean results. IdealLean BCAAs come in refreshing Green Apple and Raspberry Lemonade flavors, both with 5g of BCAAs in a high-quality 2:1:1 ratio.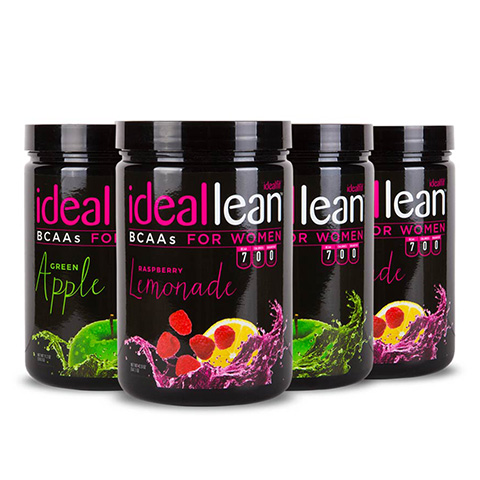 IdealLean Pre-Workout is made to get you motivated and focused for each and every workout so that you can give your best every single time. Green tea extract gives you clean, comfortable energy, while IdealLean Fat-Loss Blend and our blend for focus and endurance help you achieve the results you're working so hard for.

Like our other IdealLean products, IdealLean Pre-Workout contains 0g sugar, 0 carbs, and 0 fat so that you get what you need without any junk. IdealLean Pre-Workout is completely calorie-free and comes in yummy Blue Raspberry and Watermelon Ice flavors.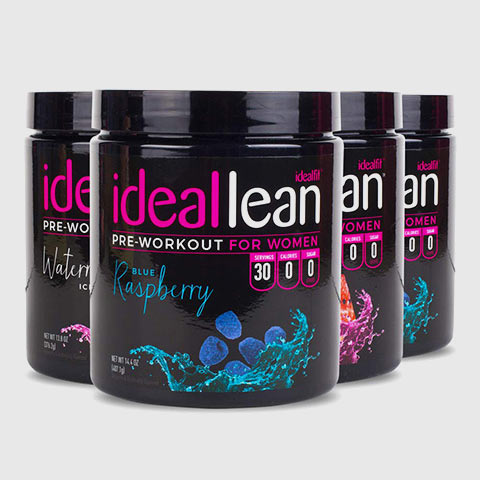 Frequently Asked Questions
How do I use all three supplements together?
You should take IdealLean Pre-Workout 20-30 minutes before working out by mixing 1 scoop with 8-10 oz of water.

We recommend starting with 1/2 – 1 scoop to assess tolerance. Once you've assessed IdealLean Pre-Workout's benefits, you can increase up to 2 scoops per day.

Lindsey Mathews, CISSN Nutritionist and national figure competitor, uses IdealLean Pre-Workout every day. Here's an example of Lindsey's daily meal plan:

5:00 a.m. IdealLean Protein, 1/2 c. oatmeal, and 1 c. berries
5:30 a.m. IdealLean Pre-Workout
6-7:30 a.m. Workout with IdealLean BCAAs
7:30 a.m. IdealLean Protein, 1 banana, and 1/4 c. cream of rice smoothie
9:30 a.m. 2 slices Ezekiel bread, 1 whole egg plus 1/2 c. egg whites, one capsule IdealLean Fat Burner
1:30 p.m. 1 c. brown rice, 4 oz chicken breast, and 1/2 an avocado, one capsule IdealLean Fat Burner
3:00 p.m. IdealLean BCAAs
5:00 p.m. 1 small baked sweet potato and 4 oz steak
8:00 p.m. IdealLean Protein with 1 T. peanut butter
Why do I need all three supplements?
When it comes to reaching your fitness goals, you need supplements that are specialized to help you and support your goals in different ways. None of our supplements do the same job. They all help you in different ways.
IdealLean Protein helps you get enough protein without all the extra junk. With 20g of whey protein isolate and no fat, carbs, or sugar, you can support lean muscle growth while getting leaner and more toned.
IdealLean BCAAs give you an extra dose of amino acids. Amino acids are the building blocks of muscles, and giving your body an extra helping will help you repair your muscles and recover faster. The faster you can recover, the faster you can get back at it!
IdealLean Pre-Workout helps you give it your all during every single workout. With more energy and focus during each workout, you can work harder and reach your goals even faster! Plus, with our unique Fat-Loss Blend you can get lean too.
Each of these unique supplements work together to help you reach your goals faster than ever!
Most fitness supplements are designed with men in mind. They contain a bunch of junk we don't need without including any of the things we do need to help us reach our goals. That's why we created IdealLean: to help women get strong, toned, and lean!

All IdealLean supplements are designed with women in mind. We include specific blends, vitamins, and minerals in each product to help women achieve their goals faster than ever.
We are sure you'll love our product! If you don't, send it back within 1 year for a full product price refund!